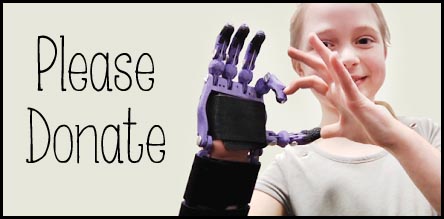 EnablingTheFuture is forming a not-for-profit corporation and applying for IRS 501(c)(3) tax status. However IRS approval can take as long as 12 months.  And we have work to do!
Meanwhile, tax deductible donations are accepted by Rice University's EBANK site as well as Rochester Institute of Technology, the not-for-profit 501(c)(3) where e-NABLE founder Jon Schull runs the MAGIC ACT Initiative. MAGIC is RIT's Center for Media Arts Games Interaction and Creativity. The mission of the Access and Collaboration Technology Initiative (ACT) is to support Enabling the Future and participate in the community.
100% of your donation will be used to cover e-NABLE's needs and activities.
Click HERE or on the below image to get started.